In 1995, Pete and I were experiencing a musical growth spurt, after a few years of parenting toddlers and feeling queasily out-of-it. We joined Columbia House (don't judge, they had an amazing alternative catalog back then) and soaked up new music videos wherever we could find them. One of our fave outlets for alterna-vids was a Boston-based show called Rage TV (http://www.ragetv.com/). In November 1995, Rage TVbrought me Francis Dunnery.
With a chunky Scots-Irish accent and a wry smile, he sat with his dog and talked with the show's host about his new record, Tall Blonde Helicopter. He got my attention because:
—I could somehow tell he was my age—which was just starting to seem novel, me being in my 30s and all.
—He was simultaneously beguiling yet laser-beam direct with his comments.
—Did I mention the accent?
After the interview segment, they ran the video for "Too Much Saturn," a slice-of-life story song lamenting (and lampooning) Dunnery's need to appear enlightened. It was like hearing a new style of poetry, that song. I stared openly at the television set and felt electrified by his sound and words. The next chance I got (this being pre-Amazon), I hunted down that LP. You know the feeling: one spin and you know this album will be burned in your consciousness forever? Yes, that. There were also multiple bisections between his experiences and mine. He sang about sobriety—a road I knew well and pursued determinedly. He sang about estrangement from his father. Check. He sang about lust and love in a way that mirrored where I was with Peter (still does). And he sang about sweet moments of parenthood. Sold!
You see him up there, that pic I led off with? He's standing in Central Park, 1995. I probably stood on that patch of grass as a teenager. New York was Francis' adopted home and he sang about that in terms that evoked my deep-dwelling home memories.
The guiding principle of Francis Dunnery's music is unrepentant honesty and revelation. I need performers like him in my life, to calibrate myself.
Eleven years and three LPs later (all of which are DNA albums, to borrow a term from my daughter), Francis embarked on an international House Concerts tour. Last week, this tour actually brought him to Maine. And Peter and I got a babysitter (!) and stayed away from home overnight (!!) so that we could go see this man whom we've admired for so long. The first time in 17 years that we had been away from home & hearth for a full day and night, just the two of us. That alone was fortifying.
We had never met the host of this house concert, but he and his wife welcomed us warmly. We hesitantly stepped out onto their deck , a beautiful spot surrounded by the woodsy green of full-on Maine summer. Guests were milling around waiting for Dunnery to arrive, chatting and snacking. This is a social set-up that, nowadays, renders me mute and useless. I have lost all aplomb (see above: sobriety); I basically feel meek and unequal to people I meet at parties.
Ahhhh, but this was not a mere party. This was a gathering of like-minded individuals with a shared purpose. I sat next to a woman my age, and she initiated a conversation with me--amazing!--which instantly yielded numerous things to talk about. Pretty much everyone at the concert felt like a soul acquaintance whenever a conversation started: artists, musicians, writers, astrology believers, thinkers. So here was an extra bonus to the Peter-and-Nessa-just-the-two-of-us night.
And then, Francis arrived. We all went inside...the host's living room was built a few years ago, specifically to allow musical gatherings like this. The cathedral ceiling makes for exceptional acoustics. Pete and I snagged seats in the second row. Francis stepped to the front of the room and I nearly gasped. First of all was that moment of it's really him, the guy I listen to so much! But the kicker was when he hoisted his acoustic guitar. I knew he was a tall man--well over six feet, like my beloved hub. But I had never noticed how massive and thick his hands were. I watched in awe as he started playing delicate notes with those fingers, skating along the strings.
For a couple of hours, then, he performed, with rich banter in between. Much of the talking has to do with issues of midlife...once again, a perfect bisection for me. He also riffed about growing up Catholic, to hilarious effect--been there too. But the music...oh my. His voice soars on the high notes, undiminished by that midlife he talks about. His large hands form gorgeous chords, and geez can they move fast when he wills them to. Just a gift, to watch Francis play in close proximity.
I am the daughter and sister of musicians. Obviously, from my writings here, music is my life (I used to write that in my teenage diary all the time). But the muse Euterpe passed me over; I can't play an instrument. I love to sing, but I never believe in my ability to do it. Well, something came over me sitting in front of Francis Dunnery--me and other women in the audience. We started singing along, and adding harmony. Reminiscent of my Catholic-school choir days, really.
On one song, "I'm in Love," there's a female backup vocal that comes in on its own (sung by Dorie Jackson on the record...she's an apt complement to Dunnery). I knew when this vocal part was coming: "Stone cold in love," is the line. As the song built towards it, and I was grooving along, Francis looked me right in the eye and held on. With a challenging glint, as if he knew that I knew what the line was. Looking in his eyes made me brave. I sang it out loud. Alone, because no one else knew it was coming. And then he said, in that homeslice accent, "Exactly." And went on with the song, never breaking stride.
His tour manager told me after the concert that Francis had said backstage, "That was the moment of the show, right there."
Well, it was for me. Impressive what we can learn about ourselves in middle age, hmm? Some of the other guests came up to me after and said that I had a great voice. We need to hear that to really believe it, don't we? I felt like a watered flower.
Reader, I met him. But ever-so-briefly, because I was so absorbed in conversation with the others in attendance. Francis was on his way out when I got this picture taken with him: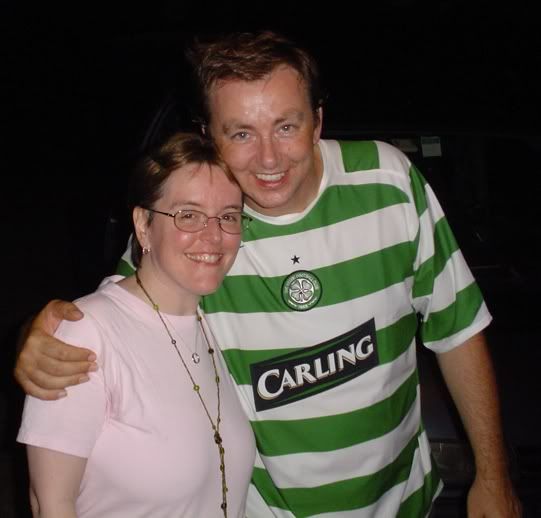 File under bliss. I believe. What a peak experience.